Spontaneous A Cappella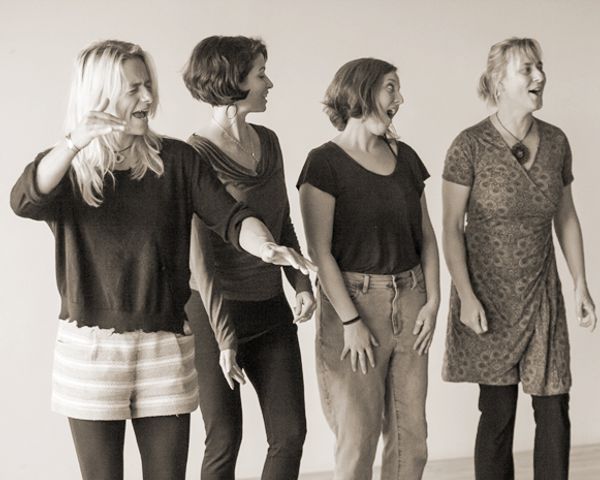 Collaborative Vocal Improvisation
Six Classes: October 11 — November 15
Spontaneous A Cappella is a more advanced, small-group improvisation practice, based on the Vocal River forms created by Rhiannon. We'll learn and practice ways to create vocal music together, without a score, chart or leader.
This is a deeper dive into improvisational singing, for confident singers who want to hone their improv skills.
Who should sign up… If you're comfortable enough with your voice to hold a part, create a harmony, blend with other singers, and you're willing to experiment and grow, you'll fit right in. More experienced singers are encouraged to join, especially if you're looking to free-up your improv skills.
The most important requirement is a willingness to stretch your comfort zone, no matter what level of singer you are.
What to expect… Every form we practice is a cappella, spontaneous, and improvisational. Forms range in participation from the entire group singing at the same time, to smaller breakouts, including duets, trios, solos, etc., both with group backing and on their own.
What are the benefits… No matter what level singer you are, this practice will deepen your listening skills, free up your improvisational brain and voice, and strengthen your compositional skills. These exercises build skills in listening, creativity, trust, forgiveness, collaboration, generosity, and flexibility — useful tools for music and for life.
Limit: 12 Singers
DETAILS:
What: Spontaneous A Cappella — Six Class Series
When: Wednesdays, 7:00 — 8:30 p.m.
Dates: October 11 — November 15
Where: Osho Leela Meditation Center
Address: 1025 Rosewood Ave, Boulder (Map)
Price: $129 — $159, Sliding Scale
Register: via the form below
Limit: 12 Singers
Register — October/November Course
Please complete the form below.
Once submitted, you'll be directed to a confirmation and payment page. (If you're not redirected, please email Roy )